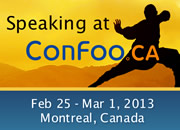 I will be speaking at the ConFoo web conference. My talk will be The new Java platform – better eight than never. Java 8 is scheduled to be released in the summer of 2013 and this will be one of the most important updates of its 17-year history as it will bring the advantages of functional programming to Java and to the masses. I will discuss how lambdas will be integrated into Java, how they will compare to other languages as well as other Java 8 features.
Java's foray into functional programming has been in the works for several years now but things have been moving slowly at Oracle ever since it took over from Sun. While Java 8's release has been delayed, other functional languages are gaining market share because they are better suited to solve modern software problems. The stakes are high for Java. …Better late than never!
Hope to see you there.